Extended Access Appointments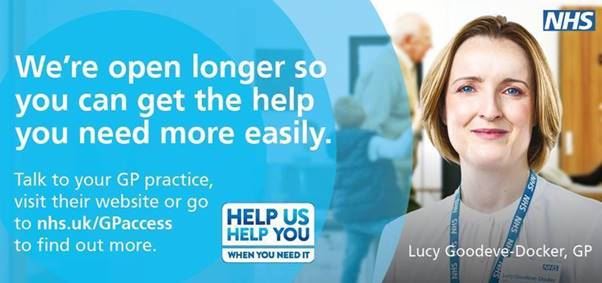 GP Extended Access – making it easier to get a GP appointment at a time that suits you
Do you find it difficult to attend an appointment during the working day?
Are you a busy parent with small children?
Or do you rely on working carers to take you to appointments?
The Northampton GP Extended Access service makes it easier for you to book an appointment with a local GP or other healthcare professional at a time that is more convenient, including evenings, weekends and Bank Holidays. Appointments are available in Northampton.
When are appointments in my area available?
18:30 – 21:30 Monday to Friday
09:00 – 17:00 Weekends
10.30 – 13.30 Bank Holidays
What type of appointments are available?
A range of appointments are available through the service, including the following:
GP- routine GP Appointments & test results
Advanced Nurse Practitioner/ Nurses- acute minor illness, smears, dressings etc
Where will I be seen?
GP appointments that are offered will be telephone consultations only.
Some Face to Face Appointments are available with our Nurses and you will be informed if it is a face to face appointment and these will be at Northampton GP Enhanced Access Service on the ground floor of Highfield Clinical Care Centre, Cliftonville Rd, Northampton NN1 5BD